Tulsa Sleep Apnea
What is Sleep Apnea?
Many patients wake up exhausted every morning even after getting a full night's sleep, unaware that sleep apnea is the cause of their problem. When you sleep, your tongue and the soft tissues in the back of your mouth relax. If they are impinging your breathing passage slightly, it will lead to snoring. Sometimes they can completely block your breathing passage, causing obstructive sleep apnea. When this occurs you don't get adequate oxygen. Eventually, your brain detects the deficiency and will arouse you to take a breath, interrupting your sleep. This cycle of oxygen depletion and arousal can happen over and over in your sleep without you even being aware of it. Not only does it rob you of much-needed rest, but it can also rob your health in other ways.
Signs of Sleep Apnea
Below are some common symptoms of sleep apnea. Unfortunately, it is difficult for someone to recognize some of the signs themselves, such as stopping breathing or gasping for air in the night. It is more likely your partner will notice, so you could ask him or her to be aware of the symptoms.
Snoring
High Blood Pressure
Gasping or stopping breathing in the night
Daytime tiredness with a full night's sleep
Treatment of Sleep Apnea
The traditional treatment for sleep apnea has commonly been the Continuous Positive Airway Pressure (or CPAP) machine. Many patients find this uncomfortable and dislike having to wear a mask on their face throughout the night. Others have found relief from an oral appliance they wear like a sport's mouth-guard while sleeping. These oral appliances do work, but like the CPAP, they do not address the root cause of obstructive sleep apnea. Dr. Cha offers a different solution.
Research has shown that the shape of your mouth affects the way you breathe. Fortunately, our mouths are actively changing, which means any defect in the shape can be repaired. The DNA appliance utilizes the dynamic characteristic of mouths to treat the cause of your sleep apnea. Rather than just treating the symptoms, like other oral appliances, it slowly changes the form of your mouth, including your arch. Not only will this improve your breathing and deal with your sleep apnea, but many patients have found that it has the side benefit of improving facial structure and appearance.
If you suspect you're suffering from sleep apnea, you may call our office (918-286-7776) to schedule an appointment with Dr. Cha, or you may click here to request an appointment online.
Related Snoring & Sleep Apnea Articles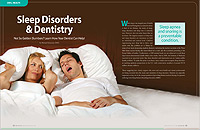 Sleep Disorders and Dentistry
If my partner snores loudly, should I be concerned and what can be done to alleviate the problem? Why does my sleeping partner have lapses in breathing while sleeping and is it dangerous? Why do I wake up exhausted even though I get up to 10 hours sleep at night? The answers to these and more questions and how dentistry can help all revealed within… Read Article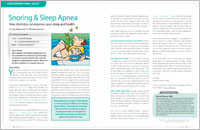 Snoring & Sleep Apnea
Snoring occurs when the soft tissue structures of the upper airway (back of the throat) collapse onto themselves, the tongue drops back, and air is obstructed in its movement through the mouth and nose into the lungs. As a result, these obstacles create the vibration that produces snoring… Read Article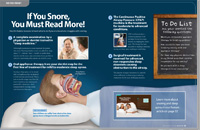 If You Snore You Must Read More…
Use this helpful resource to learn what to do if you or a loved one struggles with snoring… Read Article