Tulsa Zoom Whitening
Zoom® is an in-office teeth whitening system that uses LED light to activate the bleaching gel and accelerate the process. Dr. Cha has used a variety of whitening systems, including Zoom and other light-activated treatments. But he has switched to KöR Deep Bleaching™. What is KöR, and why did he choose it?
What Is KöR®?
KöR is the most effective in-office teeth whitening system. Your teeth can get up to 16 shades lighter. And KöR does what other brands can't—significantly improve fluorosis and tetracycline stains.
How Do Zoom and KöR Compare?
ZOOM
Zoom uses and LED light to activate and accelerate the gel.
Although your teeth will initially be brilliant, the combination of the gel and accelerate light dries out your teeth.
Over the next few days, as your teeth rehydrate, they won't be as bright.
Treatment is painless, but some people experience significant sensitivity in their teeth afterward.
KöR
KöR bleaching gel is not light activated.
Before treatment, we'll give you rejuvenating gel to condition and hydrate your teeth and help the bleaching gel penetrate deeply.
Over the next few days, your teeth will get brighter, and then the color will stabilize.
We'll give you desensitizing gel to apply to your teeth daily to ensure you feel little or no sensitivity.
How Does It Work?
We'll take digital impressions of your teeth and make custom bleaching trays.
When the trays are ready, we'll use them to apply a rejuvenating and conditioning gel to your teeth.
For the next 14 days, you will use the trays, desensitizing gel, and bleaching gel to at home. And we'll give you instructions on how long to wear the trays each day.
After your at-home sessions, you'll have an appointment for in-office treatment. Dr. Cha will coat your gums with a protective gel and apply the KöR bleaching gel to your teeth for a blast of whitening.
Your smile will be brilliant but natural looking. You'll keep your smile bright with periodic touch-ups at home.
BEFORE KöR
AFTER KöR
Photos courtesy of KöR®.
If you would like to know if you're a candidate for in-office whitening, call our office to schedule an appointment or request an appointment online.
Related Teeth Whitening Articles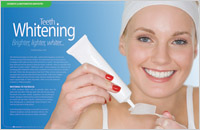 Teeth Whitening – Brighter, lighter, whiter…
The subconscious impact of a white smile is radiant health, happiness, warmth and invitation. This phenomenon has been reinforced with the spread of American culture worldwide, where an especially white smile has even been coined a "Hollywood smile." Today brighter, lighter, whiter teeth have become a norm. Tooth whitening by bleaching is a successful, conservative, relatively inexpensive and safe alternative… Read Article
Important Teeth Whitening Questions Answered!
In Dear Doctor's interview with nationally noted teeth-whitening expert Dr. Van B. Haywood, he answers questions about bleaching techniques and safety in achieving the best possible results. If you are thinking about getting your teeth whitened at your dentist's office or doing it yourself at home, this is a must-read… Read Article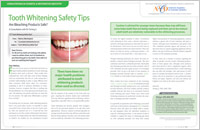 Tooth Whitening Safety Tips
There have been no major health problems attributed to tooth whitening products when used as directed. Many studies have confirmed this, and we will share some of these findings with you… Read Article