Tulsa Teeth Whitening
The Teeth Whitening Procedure
At Hope Restorative we offer two options for teeth whitening. The first one, "at home whitening," we'll discuss on this page. This enables you to whiten your teeth, as the name implies, in the privacy of your own home. The second, KöR Whitening, can be done in one appointment at our office. You can learn more about that on our KöR Whitening page.
At Home Whitening
One of the simplest ways to quickly improve the beauty and youthful appearance of your smile is through teeth whitening. We generally start with an examination and cleaning to make sure everything is healthy and ready for the strong bleaching chemical. From there we make an impression of your teeth in order to create snug fitting trays that form exactly to your teeth.
When your trays are ready we provide tubes of bleaching gel for you to take home. Simply place the gel in your trays and wear them at a convenient time at home for at least 20 minutes each day. Some people prefer to wear them overnight. You can do it for as many days as you want to get your teeth the whiteness you desire. Most people see the results they were hoping for in just a couple of weeks. It is that simple.
How the Procedure Works
When you wear the trays with the gel we provide, your teeth absorb the gel which contains peroxide. The peroxide releases oxygen, which in turn oxidizes the stains and pigment molecules in your teeth. The more you use the gel, the more oxidation takes place giving you a dazzling white smile. This is a permanent process. However, life will continue to impart new stains on your teeth, especially if you drink coffee or smoke, etc. But, your teeth will always be whiter than they would have been. You may want to periodically do a "touch up" every year or two, in order to remove the new stains. If you keep your trays, this is a simple process of just picking up more gel.
To begin getting your teeth white, please call, or you may visit our request an appointment page.
Related Teeth Whitening Articles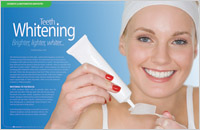 Teeth Whitening – Brighter, lighter, whiter…
The subconscious impact of a white smile is radiant health, happiness, warmth and invitation. This phenomenon has been reinforced with the spread of American culture worldwide, where an especially white smile has even been coined a "Hollywood smile." Today brighter, lighter, whiter teeth have become a norm. Tooth whitening by bleaching is a successful, conservative, relatively inexpensive and safe alternative… Read Article
Important Teeth Whitening Questions Answered!
In Dear Doctor's interview with nationally noted teeth-whitening expert Dr. Van B. Haywood, he answers questions about bleaching techniques and safety in achieving the best possible results. If you are thinking about getting your teeth whitened at your dentist's office or doing it yourself at home, this is a must-read… Read Article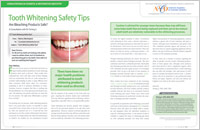 Tooth Whitening Safety Tips
There have been no major health problems attributed to tooth whitening products when used as directed. Many studies have confirmed this, and we will share some of these findings with you… Read Article