Tulsa Sedation Dentistry
If you are fearful of going to the dentist, you are not alone. A poll done in 2008 showed that half the people in the United States have some form of dental phobia. If you suffer from dental fear, we can help. Dr. Cha enjoys seeing fearful patients. He makes it a personal goal to give them a pleasant experience and put them more at ease about future oral health visits. He's not only highly skilled and qualified in their fields of study, but have kind and gentle personalities, as well as touch.
However, just knowing that Drs. Cha is a kind, gentle, and skilled dentist will not take away the very real anxiety and dread patients, who've had previous traumatic dental experiences, can feel. To make things easier for their fearful patients, he offers sedation dentistry.
Types of Sedation Dentistry
Drs. Cha offers three types of sedation dentistry: Nitrous Oxide, Oral Sedation, and IV Sedation.
Nitrous Oxide
Nitrous Oxide would be a good choice for people with mild dental anxiety. It is a sedative gas that is mixed with oxygen. You breathe it in through a nose mask while Dr. Cha is working on your teeth, and it induces a relaxed state that seems to strengthen the Novocain and eliminate the stress of the dental appointment. At the end of the procedure, you simply breathe pure oxygen for a couple of minutes, and all the effects are completely gone. People like it because of its convenience. Since it has no after-effects, you can go back to work or drive home.
Oral Sedation
If you feel like a stronger sedative is needed, oral sedation is very popular. You simply take a pill before your appointment. This will put you in a sleepy state so that you will be completely relaxed and indifferent to the dental appointment. You may not even remember the procedure.
A disadvantage is that the effects linger past the appointment, so you would need to have someone bring you to the office and drive you home afterward. But it is excellent for the anxious dental patient, and it enables you to have a great deal of dental work done in one appointment..
IV Sedation
The strongest level of sedation we offer is IV Sedation. Dr. Cha is one of a few dentists who has an IV sedation permit, and he also is certified in Advanced Cardiac Life Support. The level of sedation with IV sedation is deeper than with oral sedation, though you are still conscious and your protective reflexes are functional.
Qualifications for Sedation Dentistry
Dr. Cha has been doing sedation dentistry since 2004. He is DOCS (Dental Organization for Conscious Sedation) certified, which is the leading institute in dental sedation instruction. Dr. Cha also has a special permit for IV sedation and is ACLS certified. Your safety is a top priority.
During both IV and oral sedation procedures, as an extra measure of safety, your vital signs are carefully monitored with a pulse oximeter, and all the standard safety precautions of the Dental Organization for Conscious Sedation are followed.
Drs. Cha realizes how hard it is to go to a dentist after years of putting it off. They want to assure you that their office will treat you with respect and there will be no lectures on the importance of regular dental care. To get on the road to good oral health, you may either request an appointment using our online form, or just call our office.
Sedation Dentistry with Tulsa, OK dentist Jerome Cha
Related Sedation Dentistry Articles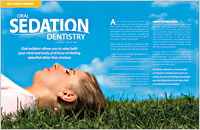 Oral Sedation Dentistry
Step out from under the shadow of fear and into the calm of sedation dentistry. There are safe and time-tested options available to ensure that you have a positive and painless dental experience. Your apprehension and hypersensitivity to pain melt away, yet you remain awake and in control… Read Article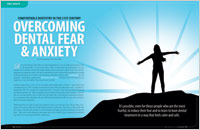 Overcoming Dental Fear & Anxiety
It's possible, even for those people who are the most fearful, to reduce their fear and to learn to have treatment in a way that feels calm and safe. Here's how… Read Article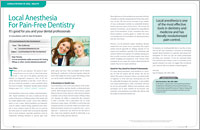 Local Anesthesia for Pain-Free Dentistry
Local anesthesia is one of the most effective tools in dentistry and medicine. It is safe, effective and has totally revolutionized pain control. Without local anesthesia, some dental procedures would be quite stressful for all involved. It's good for you and for your dental professionals… Read Article