Tulsa Porcelain Veneers
There are a wide variety of esthetic problems that people want to change about their smile: chips, cracks, gaps, crooked teeth, discoloration, and size inconsistencies are just a few of them.
If you've ever been unhappy about your smile, you are not alone. The research says that about half of all Americans wish they could change something about their smile. One of the best and fastest ways to do that is with porcelain veneers. They are capable of fixing several problems at once, in weeks instead of years.
Porcelain veneers are thin wafers of porcelain that are bonded directly to your teeth. Under the artistic hands of Dr. Jerome Cha, your smile will be absolutely transformed. We are so confident that you will love your new smile, that we even back it with a beautiful smile guarantee. There are some real advantages to using porcelain as the raw material from which your new smile design will be created. Porcelain perfectly mimics the natural translucency and sparkle you get with natural teeth. They are actually stronger and harder than natural tooth enamel, as well as more stain resistant, giving you added protection that you can't get with your natural teeth alone.
How Porcelain Veneers are Applied
The first step is to determine your smile design. To do that we start by creating a computer simulation of what you would like your new smile to look like. There are many different types of smile designs, such as young smiles, or sophisticated smiles. Getting to see the different smiles visually on your own photograph will help you determine the right one to give you the look you're going for. Once we know exactly what you want we get to work on your veneers. Dr. Cha is so committed to giving you a gorgeous smile that he doesn't use a secondary lab to create the materials for your veneers. They have their own lab. This helps ensure everything is of the highest quality for his patients.
He'll do a wax mock-up and make some temporary veneers for you to try on. This enables you to get a sneak peek as to how it looks on you. You can even get the opinions of your friends. We will not permanently place your veneers until you are absolutely sure and satisfied with the temporaries. When your permanent veneers are ready we will gently shave your teeth to prepare them for placement. The shaving is so minimal you will not even notice a difference. Some people are under the impression that your teeth are ground down. In reality, there is very little shaving done. In the picture at the top of the page, a veneer is being placed on a prepared tooth. It is hard to tell which tooth is shaved and which isn't. Once your teeth are prepared, we'll bond your veneers on to your teeth.
The cosmetic work that looks natural and beautiful. Dr. Cha has made it a priority to do exceptional work. As a result, he is an AACD accredited. This is a rigorous process that only the very best cosmetic dentists can meet. There is a written and oral examination, as well as peer-reviewed judgment on the quality and beauty of the applicant's cosmetic cases. Dr. Cha is only the second dentist in the entire state of Oklahoma to reach this level of expertise.
If you are considering veneers, you may call our office to schedule an appointment, or click here to request an appointment online.
Related Porcelain Veneer Articles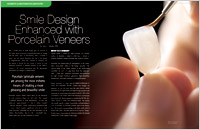 Smile Design Enhanced with Porcelain Veneers
In part two of the series on Smile Design, Dear Doctor takes an in-depth look at Porcelain Veneers, a superior yet minimally invasive technique for smile enhancement. We'll explain not only when they're appropriate, but also when they're not… Read Article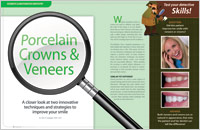 Porcelain Crowns & Veneers
A closer look at two innovative techniques and strategies to improve your smile. In many instances these two restorative techniques can produce nearly identical esthetic results, even though they are structurally different… Read Article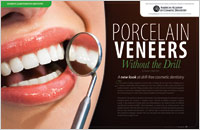 Porcelain Veneers – Without A Drill
No drilling — reality or ridiculous? A no-drill technique requires a second look, as new materials and concepts have created new esthetic possibilities. Reactions and opinions among dentists have ranged from absolute disbelief to moderate acceptance. This article gives hope and reasons for patients to get excited about this conservative drill-free cosmetic technique… Read Article