Tulsa Lumineers
Lumineers are a specific brand of porcelain veneers. They have great name recognition because they are highly marketed. One of their advertised selling points is that they are extremely thin, though there are other brands that are just as thin. A traditional porcelain veneer is approximately 0.5 mm thick. Ultra-thin veneers can be made as thin as 0.3 mm.
Porcelain veneers are a beautiful way to remake your smile. They give a dentist the flexibility to change both the shape and color of your teeth simultaneously. While you can do a lot to improve your smile with teeth whitening and orthodontics, with veneers you can get a complete smile makeover in as few as two appointments. After your veneers are placed, your smile will be resistant to staining, helping you retain your white smile.
Deciding on Lumineers
Dr. Cha prefers to use other brands of ultra-thin veneers rather than Lumineers. Den-Mat, the company that makes Lumineers, requires dentists to use their laboratory in order to use their material. They have not been completely impressed with the quality of the work of this laboratory, and prefers to do his own lab work where he can be sure of the customized results. As an AACD accredited dentist, Dr. Cha meets the highest standards of artistry. You can be assured of getting a gorgeous smile. He is so determined to have patients that are absolutely in love with their smile, that he offers a beautiful smile guarantee.
On the left is Dohn before his smile makeover. The picture on the right shows his new smile designed by Dr. Cha. This was performed with another brand of porcelain veneers, not Lumineers.
If you would like to discuss the possibilities of getting your own smile makeover, you may call our office to schedule an appointment or click here to request an appointment online.
Related Porcelain Veneer Articles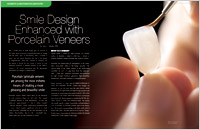 Smile Design Enhanced with Porcelain Veneers
In part two of the series on Smile Design, Dear Doctor takes an in-depth look at Porcelain Veneers, a superior yet minimally invasive technique for smile enhancement. We'll explain not only when they're appropriate, but also when they're not… Read Article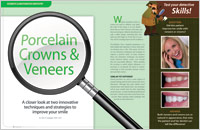 Porcelain Crowns & Veneers
A closer look at two innovative techniques and strategies to improve your smile. In many instances these two restorative techniques can produce nearly identical esthetic results, even though they are structurally different… Read Article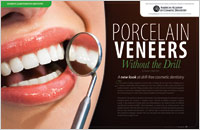 Porcelain Veneers – Without A Drill
No drilling — reality or ridiculous? A no-drill technique requires a second look, as new materials and concepts have created new esthetic possibilities. Reactions and opinions among dentists have ranged from absolute disbelief to moderate acceptance. This article gives hope and reasons for patients to get excited about this conservative drill-free cosmetic technique… Read Article