Tulsa Invisalign
Do you look in the mirror and wish you had beautiful, straight teeth, but cannot commit to years of traditional braces? New technology now allows people who need to get their teeth straightened to do so privately and in a fraction of the time of traditional braces. Invisalign is an orthodontic system that allows you to straighten your teeth in under a year, without anyone even knowing you are wearing them. Dr. Cha is an invisalign certified dentist and in no time at all can get you on the road to the smile you've always wanted.
How Invisalign Works
You'll start with a comprehensive exam and x-rays. Dr. Cha or Dr. Gaches will examine your bite and look at your tooth root structure in order to be certain that Invisalign will work for you. Once that is settled he will take a detailed mold of your mouth, which will be scanned by a computer. The computer will then manufacture several sets of aligners that are designed specifically to straighten your teeth in the most efficient wsy possible.
When you put in the first set of aligners, you will notice that they don't quite fit naturally and feel a little snug. This is intentional. Over a two week period your teeth will gradually move into the shape and direction of the aligners. By the end of that time period the aligners will now fit perfectly, which means it is time for the next set. You will repeat this process for between six months and a year, depending on the severity of your case. When you are done with all the sets of aligners, you will have a gorgeous, straight smile.
Advantages of Invisalign
They truly are invisible. Your friends and co-workers will never know you are wearing them
You can eat without any fear of food getting "caught". Simply remove the aligner, eat whatever you desire, and replace the aligner when you are done.
You can brush and floss normally.
They work faster than traditional braces, completing the treatment in six months to a year, instead of the 2-3 years required for braces.
They are much more comfortable than traditional braces. No more painful wires and brackets.
Disadvantages of Invisalign
They are more expensive than traditional braces.
Because they are removable, it is up to the patient to keep them in. This may make it a difficult option for teenagers who may not want to wear them all the time, or could lose them.
Other Invisible Braces Brands
Dr. Cha is not just certified in Invisalign; he has taken the time to become qualified in several systems including Raintree Essex and Clear Correct. The advantage to this is he can recommend the system that is best for your individual case, instead of being locked into one brand. For example, if all you need is some minor tooth movement, he would suggest the Raintree system. It will work equally well for minor cases and costs less than other brands. His goal is to get the best possible treatment for his patients.
If you would like to see if you are a candidate for Invisalign Invisible braces you may request an appointment with our office.
Related Clear Orthodontic Aligner Articles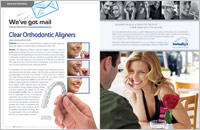 Clear Orthodontic Aligners
The orthodontic treatment using clear aligners consists of a series of aligners that you change about every two weeks over a course of treatment lasting six to eighteen months depending on how much movement is needed… Read Article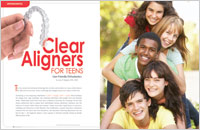 Clear Aligners for Teenagers
Teens who regard traditional braces as restrictive, confining, and obstructive to their lifestyles now have another choice for orthodontic treatment: clear aligners. This advanced dental technology, originally geared toward adults, has recently evolved to treat a greater variety of bite problems in younger people. These improved orthodontic appliances can help teens function normally during a difficult phase of life… Read Article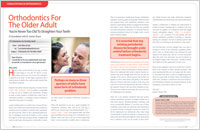 Orthodontics for the Older Adult
Healthy teeth can be moved at any age, so there's no such thing as "too old" for braces. In fact, nowadays about one out of every five orthodontic patients is an adult. Yet this figure represents only a small portion of adults who could actually benefit from orthodontic treatment… Read Article