Tulsa Dentures
When you have to replace all your teeth one option is removable dentures. Though you will never feel like they replace your natural teeth perfectly, you can get a set of well made, beautiful dentures that will serve you well. Dr. Cha, who is an accredited dentist with the American Academy of Cosmetic Dentistry. Only two dentists in the state of Oklahoma have reached this level. As a result, he is a highly qualified cosmetic dentist who you can be assured will give you a gorgeous smile. No longer do dentures have to look like false teeth. With the artistry Dr. Cha has developed your dentures will look very natural. Dr. Cha will work with you on your smile design beforehand so you are sure to get the smile you were hoping for.
Getting Natural Looking Dentures
The key to gorgeous dentures is the approach of your dentist and the materials he or she uses. For example, many dentists will use acrylic teeth, because they are both easy to work with and inexpensive. Unfortunately, they come with some drawbacks. Not only are they susceptible to staining, but they lack important qualities that are necessary for the beauty of natural looking teeth, such as translucency and subtleties of color and shape. They also wear down quickly. With denture bases, there are also a variety of materials to choose from. The less expensive ones can warp during fabrication, which will negatively affect a perfect fit. But here is the good news. For not much more money, you can get beautiful, natural looking teeth because of the many high tech materials now available to cosmetic dentists.
The philosophy and artistic sensitivity of the dentist also affects the outcome. Dental schools tend to teach that dentures should be made a little unattractive in order to be truly natural. Dr. Cha doesn't hold to that philosophy. If you would like beautiful, white teeth he can make them look very natural. You will have a smile you'll be proud to show off.
The Limitations of Dentures
While having a beautiful set of dentures is most certainly better than not having any teeth, there are some limitations you need to be aware of. First, your chewing efficiency will not be the same as it was with your natural teeth, so it may take an adjustment period for eating to feel normal to you. You also have to bear in mind that dentures are designed to rest on moveable gum tissue, therefore they will move around some and could possibly slip. As long as you understand that up front, you can have satisfaction with your dentures.
Probably the most important limitation to understand about dentures though is the danger of facial collapse. If you've lost all your teeth, your body will begin to reabsorb the minerals in your jaw bone and distribute them throughout your body. After about 20 years you will have lost the majority of your bone structure in your jaw and will be faced with what is known as facial collapse. That is a condition where your face looks a little compressed, aging you. There is no way to avoid this condition with dentures over a long period of time. However, dental implants can protect you from facial collapse. You can learn more about them on our dental implants page.
If you're ready to discuss your tooth replacement options, you may call our office or click here to request an appointment online.
Options for Denture Wearers with Tulsa, OK dentist Jerome Cha
Related Denture Articles
Removable Full Dentures
Complete tooth loss can cause a host of health problems, including malnutrition and bone loss. Though fixed bridgework may hold a higher place of reverence when it comes to replacing an entire set of teeth, removable full dentures can provide an elegant solution that is significantly more affordable… Read Article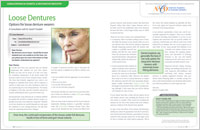 Loose Dentures
Loose dentures are a common problem for people who are full or complete denture wearers, especially if you have worn them for a long time. Whether or not new dentures are needed depends not only upon the condition of your existing dentures, but also how much the supporting tissues have changed… Read Article