Tulsa Dental Implants
What is a dental implant?
A dental implant is designed to replace a tooth. You can use them to replace one tooth, or multiple teeth. You can even use them to replace all of your teeth. They look, feel, and function just like your natural teeth. Implants are the gold standard for replacing teeth.
There are two parts to a dental implant: the root form and the crown. First the root form, a titanium screw, is surgically placed into your jawbone. At Hope Restorative & Cosmetic Dentistry, Dr. Cha does his own surgery so you will be assured that the implant is placed in the ideal position for the crown. You won't have to worry about any miscommunication between the surgeon and the dentist. Once the root form is placed into your jawbone, we leave time for healing and for a process called osseointegration. This is where the jawbone grows around the implant to make it as secure as a natural tooth root. Once that has taken place, Dr. Cha will add a beautiful crown to the top of the root. He takes great pride in his cosmetic procedures, so you can be assured it will look just like a natural tooth. You now have a complete tooth replacement.
What if you are missing multiple teeth?
th, or have an implant for each missing tooth. Obviously the more implants you have, the more stable everything will be. Dr. Cha can help you decide which is the best treatment plan for you.
What are the advantages of dental implants over dentures?
They are MUCH more comfortable
They are secure and won't fall out at embarrassing times
You can eat anything you want
You clean them just as you would your natural teeth
They prevent the devastating affects of facial collapse
Choosing a dental implant dentist
If you are looking for quality implant dentistry, you'll want to make sure your dentist has had sufficient training. Implant dentistry is a fairly new field, so it is not yet a recognized specialty. The downside to that is that any dentist can claim to be qualified to place implants. You don't have to worry about that with Dr. Cha. He has impeccable credentials.
The Misch Institute
The Misch institute is a world reknown dental implant postgraduate study. Dr. Cha spent two years completing every course they had available, including the surgical program, bone grafting, plastic surgery, prosthetics, and cadaver programs. Dr. Cha is more than qualified to handle all aspects of dental implants.
An ICOI Fellow
The International Congress of Oral Implantologists (known as the ICOI) has challenging requirements to obtain fellowship status. Dr. Cha had to provide documentation of a large list of successful implant cases and a minimum 75 hours of continuing implant education. In order to maintain his fellowship status, he must meet further requirements.
To see if you are a candidate for dental implants, you may call our office to schedule an appointment or click here to request an appointment online.
Click the icon (
) in the top right of video to see a list of more related videos.
Related Dental Implant Articles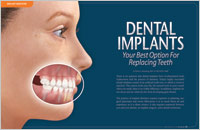 Dental Implants – Your Third Set of Teeth
A discovery fifty years ago paved the way for one of dentistry's most exciting, natural looking and successful tooth replacement systems. Learn how dental implants might just possibly change your life… Read Article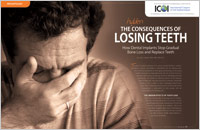 The Hidden Consequences of Losing Teeth
For those missing even one tooth, an unsightly gap is actually the least significant problem. What's of far greater concern is the bone loss that inevitably follows tooth loss. Dental implants fused to the jawbone can preserve bone, improve function and enhance psychological well-being. Learn how implants serve both as anchors to support replacement teeth, and preserve bone as one of the better preventive maintenance procedures in dentistry… Read Article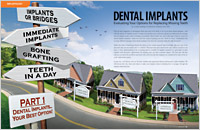 Dental Implants – Evaluating Your Options for Replacing Missing Teeth
As we guide you through the marketing hype you'll see that well planned implants most often require a team approach in assessing whether they're right for you. Not only are they a better treatment choice, they will last longer, possibly a lifetime, making them the right choice and the most cost effective option long term… Read Article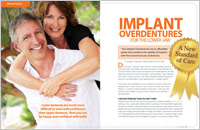 Implant Overdentures for the Lower Jaw
Implant overdentures represent a major change for the dental profession and the public. The lower jaw two-implant overdenture may be considered a more appropriate starting point over regular dentures… Read Article