Tulsa CEREC Crowns
Traditionally when you need a porcelain crown, it has required two visits to your dentist. During the first visit your teeth would be prepared for the procedure. An impression of your teeth would then be taken and sent to the lab, along with the design specifications. At that point you would be fitted with a temporary crown to protect your tooth while waiting for the lab to finish your permanent crown. Once the lab completed its work, your crown would be shipped to your dentist. During your second visit your temporary crown is removed and the permanent one bonded into place.
There are some inconveniences with this process. Some people find the process of getting impressions of their teeth unpleasant. A runny, bad tasting material is placed in your mouth. Those who have a strong gag reflex feel like they are choking. You have to miss an extra day's work, costing you both time and money. You might have to go several weeks with a temporary crown, which are rarely as comfortable as the permanent ones. Fortunately modern technology helps you avoid all the problems with traditional placement of crowns.
Advantages of CEREC crowns
New CAD-CAM technology changes everything. Once your tooth is prepared, it will be coated with a safe, tasteless powder. Then 3D images will be made of your tooth and the surrounding structure with a special intraoral camera. The CAD software allows us to take those images and customize a precise restoration to fit your mouth and smile perfectly. Not only that, but the computer mills the block of porcelain right there during your first (and only) crown appointment. There is no need to send anything away to a lab, so you will not have to take any further time out of your busy schedule for a second appointment. Nor will you have to wear a temporary crown.
If you'd like to see if you are a candidate for a CEREC crown, you may call our office to schedule an appointment or click here to request an appointment
online.
Related Dental Crown Articles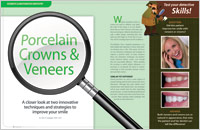 Porcelain Crowns & Veneers
A closer look at two innovative techniques and strategies to improve your smile. In many instances these two restorative techniques can produce nearly identical esthetic results, even though they are structurally different… Read Article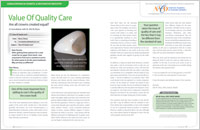 Value Of Quality Care
Are all crowns created equal? One of the most important factors adding to cost is the quality of the crown itself. Another fact is that dentists generally sub-contract out crown manufacturing to a dental laboratory technician, as they rarely make crowns themselves… Read Article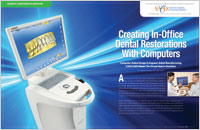 Creating In-Office Dental Restorations With Computers
Once upon a time, dentists – and patients – needed to wait weeks for a dental laboratory to make crowns and other dental restorations. Now, with an exciting digital technology known as Computer-Aided Design/Computer-Aided Manufacturing (CAD/CAM), some dentists are fabricating high-quality restorations themselves right in their own offices – in minutes! Read Article