Tulsa Botox
As you age, your face develops creases and wrinkles. Botox® is a safe and inexpensive, non-surgical way to remove some of the effects of aging off your face, making you look years younger. Its 20 year track record has given it a well established reputation as a wonderful alternative to a facelift. Dr. Cha and Dr. Durham administer both Botox® and dermal fillers. Dr. Cha is even a dermal filler instructor. Either doctor will give you great results.
How does Botox® work?
Botox® is a neuromuscular inhibitor that relaxes the muscles in your face, in effect erasing the lines and creases. Most people see results in three to five days, though for some it has taken up to two weeks. The results last anywhere from three to six months. You can repeat the treatments as necessary.
it accentuates your cheek bones. Juvederm (a dermal filler) was used in smile lines and on lips.
*Patient did not lose any weight when after photo was taken.
Dermal Fillers
Both Restylane and Juvederm are tradenames for dermal fillers, and you can get both with either Dr. Cha or Dr. Durham. Dr. Cha even teaches a Restylane class. Done by injection, these fillers place hyaluronic acid subdermally. Hyaluronic acid is a natural substance found in all animals. It works because it attracts water and holds water under your skin surface, filling in the wrinkles. The results look and feel soft and natural. The results are long lasting. Most patients keep their smoother skin surface for about eight months to a year.
Related Beauty & Aging Articles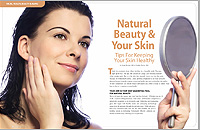 Natural Beauty And Your Skin
In keeping with Dear Doctor's goals of education and making the right choices along with your healthcare professionals, this article will empower you with facts and the top 10 tips that you need to know to keep your skin healthy… Read Article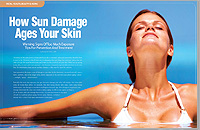 How Sun Damage Ages Your Skin
If you notice brown spots, dark patches or other changes to your facial skin as you get older, you are seeing the effects of prior sun exposure. Sun damage can take many forms – from cosmetic to cancerous. Learn what changes to look for, how to protect your skin and prevent further damage… Read Article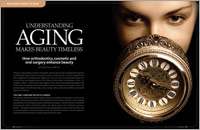 Understanding Aging Makes Beauty Timeless
Understanding growth, development, and the aging process is fundamentally important to obtaining the optimal results from facial and cosmetic dental treatment. Discover how an understanding of the aging process infl uences treatment decisions and the profound effect it can have on facial beauty during a lifetime… Read Article