Tulsa Botox
As you age, your face develops creases and wrinkles. Botox® is a safe and inexpensive, non-surgical way to remove some of the effects of aging and help your face look years younger. Its 20-year track record has given Botox a well-established reputation as an effective alternative to a facelift. Dr. Cha is certified to administer Botox®.
What Is Botox®?
Botox® is a neuromuscular inhibitor that prevents muscle movement and relaxes the muscles in your face to erase the lines and creases.
How Does Botox Work?
Before treatment, you will have a consultation with Dr. Cha to discuss your aesthetic goals. He will review your medical and prescription histories to ensure you are a candidate for this treatment.
During the Botox procedure, you can expect these steps:
Cleanse your face
Numb and mark the injection areas
Use a thin needle quickly inject a small amount of Botox beneath your skin
Cleanse your skin
How Long Does Botox Treatment Take and Last?
Botox treatment usually takes less than 15 minutes. Most people see results in three to five days, though it has taken up to two weeks for some. The effects last from three to six months. You can repeat the treatment as necessary.
Call our office to schedule an appointment or complete our Request an Appointment form.
Related Beauty & Aging Articles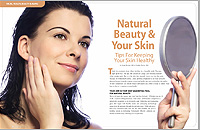 Natural Beauty and Your Skin
In keeping with Dear Doctor's goals of education and making the right choices along with your healthcare professionals, this article will empower you with facts and the top ten tips that you need to know to keep your skin healthy. Read Article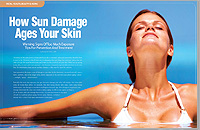 How Sun Damage Ages Your Skin
If you notice brown spots, dark patches, or other changes to your facial skin as you get older, you see the effects of prior sun exposure. Sun damage can take many forms – from cosmetic to cancerous. Learn what changes to look for, how to protect your skin, and prevent further damage. Read Article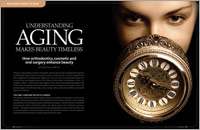 Understanding Aging Makes Beauty Timeless
Understanding growth, development, and the aging process is fundamental to obtaining optimal facial and cosmetic dental treatment results. Discover how understanding the aging process can influence treatment decisions and profoundly affects facial beauty during a lifetime. Read Article